CUSTOMER STORY
How Lingio's Mobile-Based Courses Helped Caregivers at Ambea Learn Swedish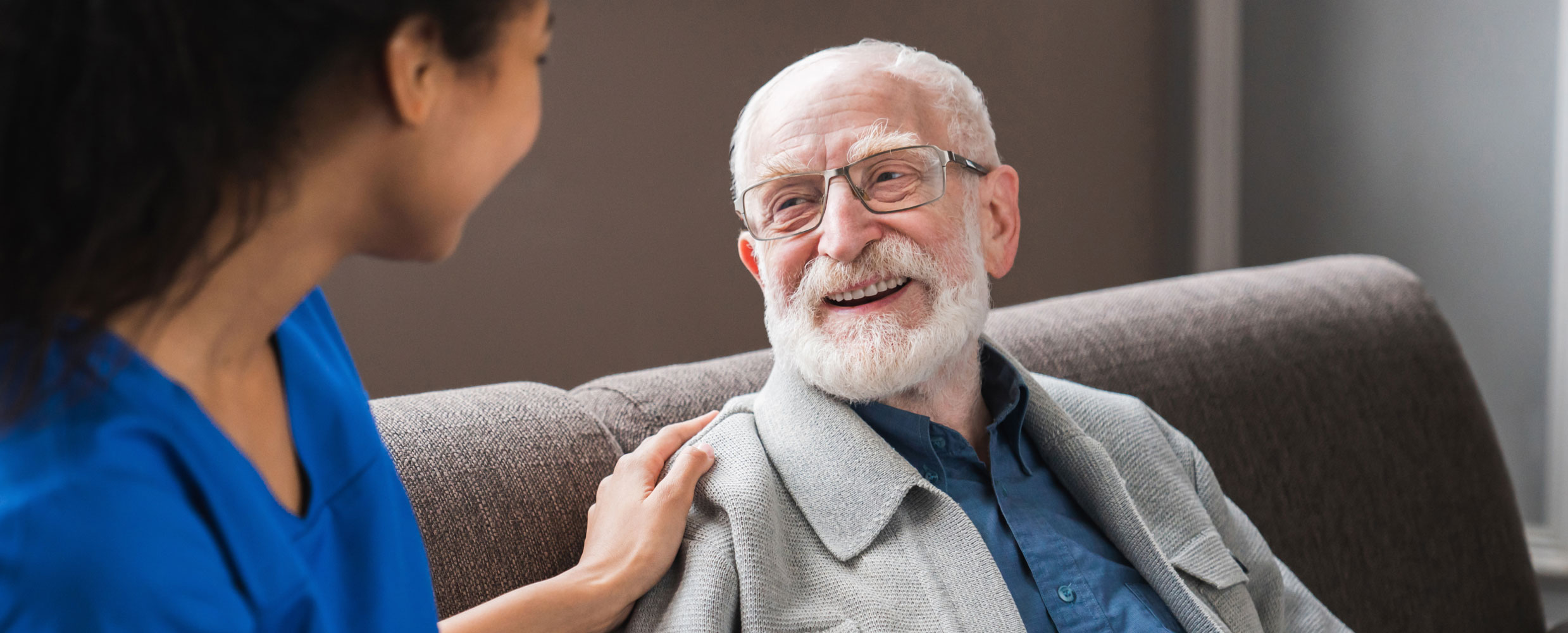 How Lingio's Mobile-Based Courses Helped Caregivers at Ambea Learn Swedish
As Scandinavia's leading care provider, Ambea takes pride in its extensive network of 950 units and a dedicated workforce of approximately 31,000 employees.

However, the demanding nature of caring for customers often leaves elderly care professionals with little time to spare for traditional desk-based learning. Recognizing this challenge, Ambea partnered with Lingio, enabling their dedicated caregivers to engage in easy and efficient mobile language learning that they can access anywhere, at any time.

Since teaming up with Lingio, training hardworking staff at Ambea has become simpler and more enjoyable for everyone. Our mobile-based, interactive, and engaging courses have been developed in collaboration with experienced teachers who understand the unique needs of those working in home care, transforming how busy employees learn skills.

Now Ambea employees can focus on what matters: caring for their patients. Keep reading to learn how our mobile-friendly approach transformed the language skills of Ambea's huge staff network.

How Ambea Upskilled Their Employee's Skills with Lingio
Being able to speak and write the local language is crucial for anyone working in healthcare, as it enables effective communication and ensures the best possible care in the country they're practising in. That's why Ambea launched mobile-based language courses for employees in partnership with Lingio.

After conducting a successful pre-study involving 20 employees, Ambea has significantly expanded their language skills learning project.
"Employees found the course fun and easy. It's been no problem finding employees who want to join." says Heidi Heino, operations manager at Villa Dalénum on Lidingö. Together with Villa Tärnö in Farsta and Villa Båthöjden in Saltsjöbaden, Villa Dalénum was part of the pre-study.


Fun, User-Friendly, Inclusive Training Courses
Lingio's goal is to make learning simple, fun and inclusive to everyone. Participants can take the courses on their mobile phones wherever they like, whenever they want.
To complete courses with Lingio, participants log in to the platform on their mobile phones, where they can complete learning exercises.

Lingio's courses are designed in an easily digestible format based on best educational practices for straightforward learning. And with the language support feature, users can select industry terms in-app and receive translations in over 100 languages.

The language learning course takes about four to six months to complete, and participants get to learn the language and terminology required at work. The course also improves the participants' Swedish in general.
"The course covers words and sentences we need at work. There are discussions about showering, breakfasts and similar everyday situations. The content is highly relevant and practical for our day-to-day routines. And it is easy for staff to complete a section of the course when they have a moment to spare. Some fit it in while riding the train to or from work." says Heidi Heino.

Set Individual Goals with Lingio
Before starting the course, individual goals were set for the participants based on which areas they needed to improve.
"Some participate, for example, to improve their writing. Many people are good at spoken Swedish but feel unsure about the written language, which is important for keeping records. I come from Finland, and can understand that. I had studied Swedish at school but felt that I did not fully master the language when I arrived in Sweden. The other staff members thought that I knew Swedish, but I was very unsure at the beginning and had to receive help from my husband." says Heidi Heino.
As operations manager, Heidi can follow the employees' progress in the course directly in the Lingio app. She can see how far they have come and helps and encourages each based on their needs.
"I am very happy that this course has become a reality. Villa Dalénum is a truly multicultural workplace, with employees from all corners of the world. Many of them come directly from care education and this is their first environment working as a certified nursing assistant (CNA). That alone is a challenge and being able to improve their skills is extremely valuable," Heidi says.
Sohana Rahman, who works as a nurse in a dementia ward at Villa Dalénum, took part in the pilot study.
"Now I have good pronunciation and better grammar. It is important that the staff know grammar so that our residents can easily understand us. I've also been able to practice my English, which is also beneficial. I practice at home where I can concentrate properly and then I try to practice the same section again, for example on the way to work." Sohana says.

Courses On Any Topic with the AI Course Creator
As well as our language courses, we also offer three ready-made courses that are available for free. These premium courses cover how to deliver high-quality customer service, workplace wellbeing, and cybersecurity protection. Developed by industry experts and professional writers, our courses empower teams to shine in their respective roles.

Want to develop your own staff training course? With our AI Course Creator, you can do exactly that. Using the Course Creator, generate AI-powered courses for staff on any topic your heart desires.

There are two options for creating custom courses with Lingio:
If you already have training material, simply upload it to the Course Creator. Let AI work its magic, transforming it into an interactive, gripping course tailored just for your staff.


Alternatively, you can pick a keyword or topic you want to focus on. The Course Creator will whip up a course specifically designed to boost skills and knowledge in that area.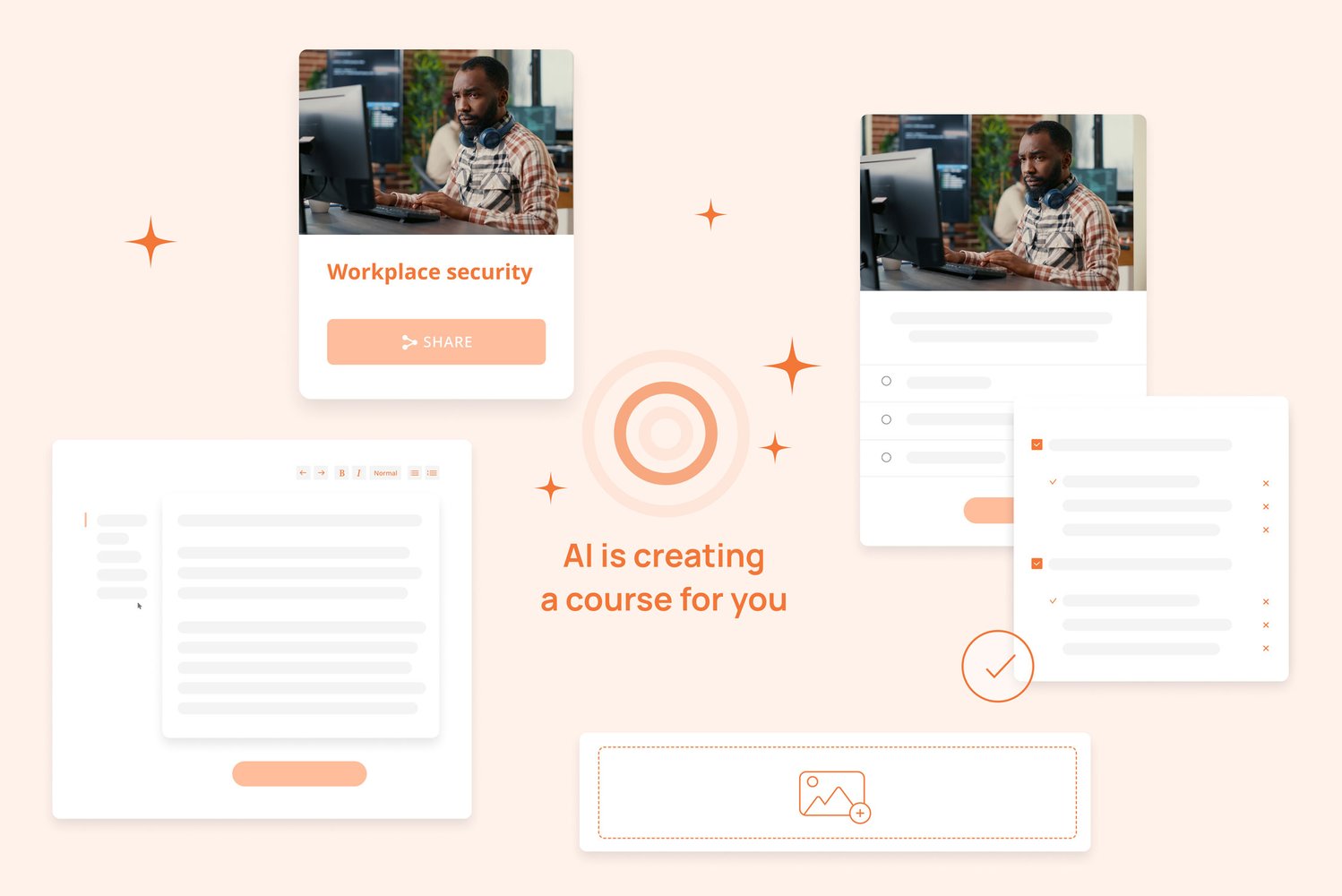 With the Course Creator, you're in control. Feel free to tweak your course by editing and adding questions to make it perfect for your team. And remember to incorporate photos from our image library to make your course even more engaging.

Ready to revolutionize your employee training? Give the AI Course Creator a try for free right here.
12x higher course completion
94% recommend taking a course with Lingio
Save hours or weeks training your staff